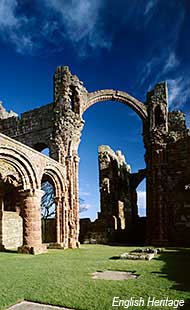 L
indisfarne Priory on Holy Island was one of the most important centres of early Christianity in Anglo-Saxon England. It is still a place of pilgrimage today, the dramatic approach across the causeway adding to the fascination of the site.
S
t Aidan founded the monastery in AD 635, but St Cuthbert, prior of Lindisfarne, is the most celebrated of the priory's holy men. Buried in the priory, his remains were transferred to a pilgrim shrine there after 11 years, and found still undecayed - a sure sign of sanctity.
F
rom the end of the 8th century, the isolated island with its rich monastery was easy prey for Viking raiders. In 875 the monks left, carrying Cuthbert's remains, which after long wanderings were enshrined in Durham Cathedral in 1104, where they still rest. Only after that time did Durham monks re-establish a priory on Lindisfarne: the evocative ruins of the richly decorated priory church they built in c. 1150 still stand, with their famous 'rainbow arch' - a vault-rib of the now vanished crossing tower. The small community lived quietly on Holy Island until the suppression of the monastery in 1537.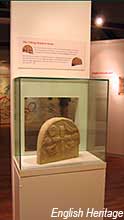 T
he museum offers visitors clear and lively interpretation of the story of St Cuthbert and the development of Lindisfarne Priory.
E
nglish Heritage hosts a programme of living history events at the priory during the summer.
T
he causeway floods at high tide, so it is very important to check the tide times before crossing. There are tide tables at each side of the causeway. Details are available from the Berwick-upon-Tweed Tourist Information Centre (01289 330733) or you can check the causeway opening times on the Holy Island website.
E
nglish Heritage exists to protect and promote England's spectacular historic environment and ensure that its past is researched and understood. Click here for more details of English Heritage sites in North Northumberland.
Daily Opening times (2023)
Admissions (2023)
Adult:
£9.50
Concessions:
£8.50
Children under 18:
£5.50
Children under 5:
Free
* Family Group (2 adults):
£24.50
* Family Group (1 adult):
£15.00
*
up to 3 children
Free Entry:
Members:
- Join now!
Overseas Visitor Pass (9 or 16 days
unlimited
)
Last admissions:
30 minutes before closing time.
Facilities:
Museum, Family learning, Guidebook, Gift shop - Toilets and parking in village.
Caution:
The causeway floods at high tide so it is very important to check the tide times before crossing.
Information:
For more information call 01289 389200 or
see website
.
English Heritage sites to
visit
in North Northumberland