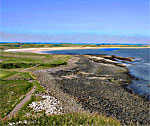 D
ramatic Dunstanburgh Castle was built at a time when relations between King Edward II and his most powerful baron, Earl Thomas of Lancaster, had become openly hostile. Lancaster began the fortress in 1313, and the latest archaeological research carried out by English Heritage indicates that he built it on a far grander scale than was hitherto recognised, perhaps more as a symbol of his opposition to the king than as a military stronghold. The innovative gatehouse, for instance, competed with the new royal castles in Wales.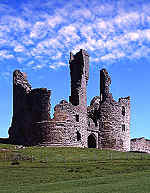 T
he earl failed to reach Dunstanburgh when his rebellion was defeated, being taken and executed in 1322. Thereafter the castle passed eventually to John of Gaunt, who strengthened it against the Scots by converting the great twin towered gatehouse into a keep. The focus of fierce fighting during the Wars of the Roses, it was twice besieged and captured by Yorkist forces, but subsequently fell into decay. Its impressive ruins now watch over a headland famous for seabirds.
D
unstanbugh Castle is owned by The National Trust and entry is free to NT members. The property is maintained and managed by English Heritage.
How to find us
By Car
: Parking in Craster village; approx 1½ miles walk. A charge is payable.
By Bus
: Arriva 401, 501 Alnwick-Belford with connections from Berwick-upon-Tweed and Newcastle (passing Metro Haymarket); alight at Craster 1½ miles.
Telephone: 01670 533128 for further details
By Train
: Chathill (U), not Sunday, 5 miles from Embleton, 7 miles from Castle; Alnmouth, 7 miles from Craster, 8 miles from Castle.
Telephone
: +44 (0)1665 576231
Daily opening times (2020)
ADVANCED BOOKING
You now need to book your timed-tickets in advance to Dunstanburgh Castle.
We have introduced limits on visitor numbers to help keep everyone safe, and you won't be able to visit without your booking confirmation.
If you're a Member your ticket will be free, but you still need to book.
Openings:
June - 12th July: Closed
13th July - 31st October: Book your timed-tickets
Admissions (2020)
Members: Free
Adult:
£6.50 (£5.90*)
Child: (5-17 years):
£3.90 (£3.50*)
Concession tool-tip:
£5.90 (£5.30*)
Family (2 adults, up to 3 children):
£16.90 (£15.30*)
Family (1 adult, up to 3 children):
£10.40 (£9.40*)
* price without donation
Free Entry:-
Members: - Join now!
Overseas Visitor Pass (9 or 16 days unlimited): - Buy now!
FURTHER PRICING DETAILS:
Remember to bring your membership card with you when you visit. If you've lost it or forgotten it, call Customer Services on 0370 333 1181 (Monday to Saturday).
Additional charges for members and non-members may apply on event days.
National Trust members admitted free, except on event days.

English Heritage sites to
visit
in North Northumberland